Expert Service
When you're bike sh*ts the bed, we've got your back.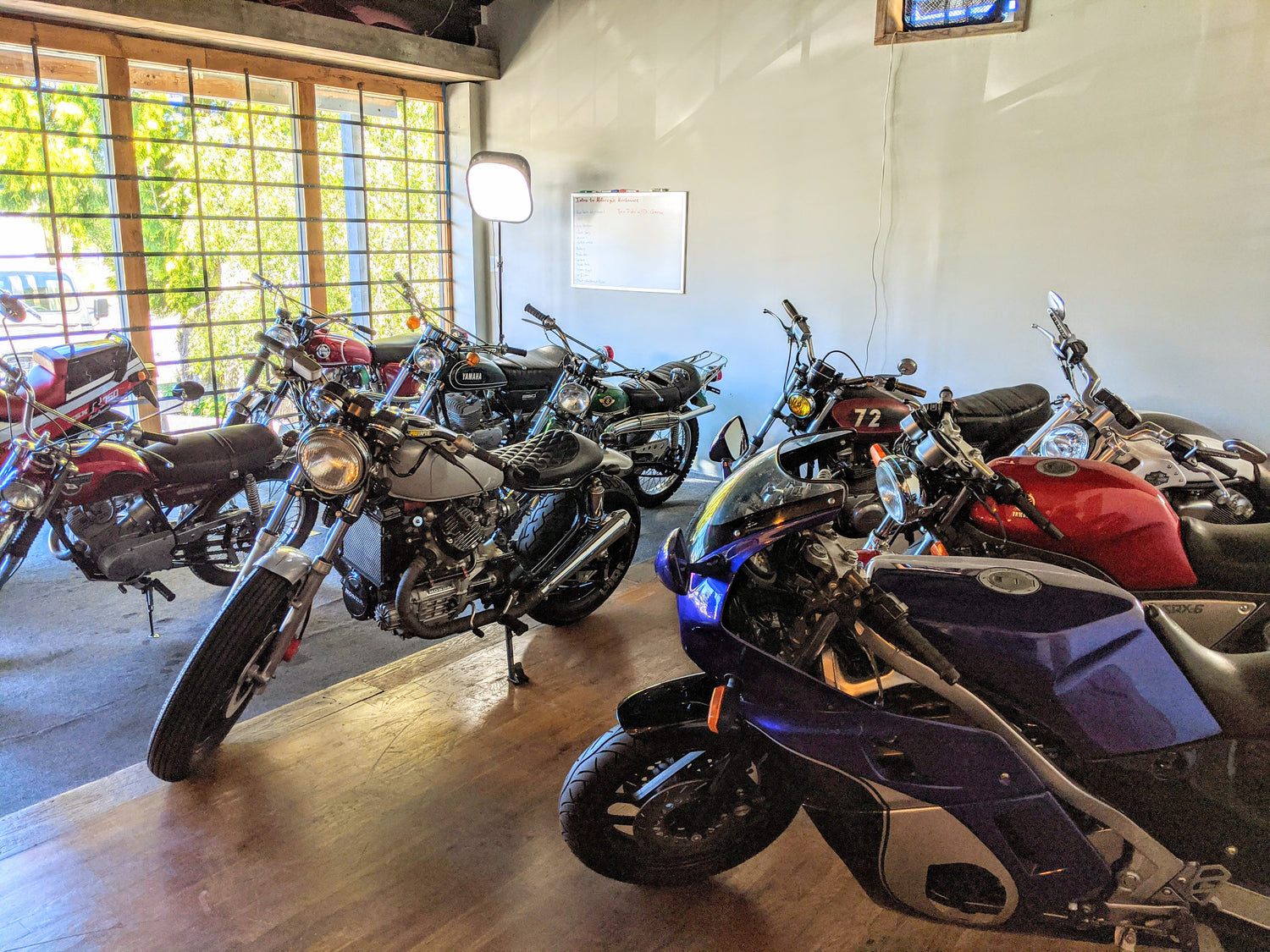 So. Many. Bikes.
With over 30 bikes for sale we probably have something here for you to drool on, complimentary paper towel included.
SHOP
WHAT'S COMING UP!

Check out these rarities with special stories. Swing by to give them a look see. Maybe you'll fall in love ♥️

SHOP
We've Got Your Back, and Your Bike's
WHAT WE DON'T DO

We do not rebuild engines. we do not do clutches or shim valves.

We don't work on the following motorbikes:

Quad, Side by Sides, HUGE bikes, Trikes. Anything German, Chinese, Italian, or 'Murican. Anything with a lawnmower engine, Anything that the layman cannot pronounce and bikes that come to us in boxes.

For sure we've left some things out, so please feel free to call or come see us in person and we'll be happy to assist in any way we can
WHAT WE DO DO

We buy, sell, trade and consign motorcycles. We also provide a number of maintenance and repair services.
THE VIBE

WE ARE HERE TO PROVIDE A SAFE, COMFORTABLE AND FRIENDLY SPACE FOR ALL OF OUR CUSTOMERS. WE SPECIALIZE IN VINTAGE, CUSTOM, AND COOL SMALL JAPANESE BIKES THAT ARE COLLECTABLE, BUT DON'T DISCRIMINATE IF THEYRE NOT. WE WON'T EVER TAKE ADVANTAGE AND WILL SHOOT YOU STRAIGHT! WE SELL SHIT LIKE WE WOULD WANT TO BUY IT! THIS IS A SAFE SPACE FOR ALL AND WE ARE HERE TO HELP YOU FIGURE IT OUT. HIT US UP AND WE'LL HELP!
CLASSES

WE HAVE STARTED WORKING ON SAFETY AND BEGGINER MOTORCYCLE CLASSES. JUST HAD OUR FIRST ONE A FEW WEEKS BACK. IT WAS A GREAT SUCCESS. STAY TUNED TO SIGN UP FOR THE NEXT ONE. PLEASE FEEL FREE TO EMAIL IF YOU HAVE INTEREST.
MOTORCYCLE STORAGE

KEEP YOUR BABIES SECURE, DRY AND CLIMATE CONTROLED! $100 PER MONTH. BIKES WILL BE ACCESSIBLE DURING BUSINESS HOURS. PLEASE CALL FOR AVAILABILITY
MOTO RESTORATION AND CUSTOMIZATION

WE ONLY DO A COUPLE OF THESE DURING THE YEAR, SO WE'RE EXTREMLY PICKY. LET US KNOW WHAT YOU'D LIKE TO HAVE DONE. WE MAY JUST TAKE IT ON.